Greenhead Cannabis has been proudly serving the citizens of Vancouver, WA, for over fourty years. As a family owned and operated business, we are happy to call the Northwest home, and we truly love everything about it—the beautiful landscape and surroundings, the culture, and the people. We started this journey with Mike's Drugs. Known for its good service, quality products, and most importantly, its sense of responsibility to its customers, Mike's Drugs quickly became one of the most highly regarded pharmacies in Vancouver. When cannabis was legalized, it became obvious to Mike's Drugs that our family should continue to evolve and help people through this new opportunity.
"Our mission is to bring happiness and well being to anyone who comes to our shop."
As a result of our history and evolving community, cannabis is more than just a recreational drug to us. Here at Greenhead, we believe in the potentiality of cannabis. Accordingly, our mission is to bring happiness and well being to anyone who comes to our shop. In an effort to accomplish this goal, we only carry the highest quality products from Washington's premier growers. Our passion goes beyond our products, though. We are also dedicated to creating a positive experience for our customers. We want every customer to know that at Greenhead, our customers' happiness and wellbeing are our top priorities.
Our shop is located conveniently off I-5 in Vancouver, WA. For years, the shop was a filling station and garage. Years ago, we saw potential in that filling station, and we knew we wanted to transform it into what would become the foundation of our company. Because of the history the building has in our family and our business, it was important to us that we create a shop in that location.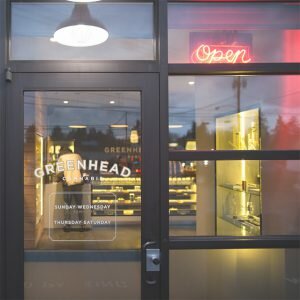 We didn't want to move to a new building in a newer location; we wanted to continue thelegacy of this building and location, and we feel good knowing the history of this location continues to evolve into something new.
For the construction of the shop, we used the same process that we do with our products. We collaborated with some of the Pacific Northwest's best builders and makers to create a comfortable and inviting environment. We want every customer— regardless of whether we see you every week or if you're new to the shop―to have a pleasant and positive experience.
We are enthusiastic about bringing the best products and customer service possible to our customers. We are expanding our product line everyday, and consequently, our customers will always have access to new products. Regardless of the frequency of your visits, we strive to always have something you'll love.
In addition to our cannabis shop, we are excited to launch our new General Store. The Greenhead General is a one stop shop for quality products, and we carry both cannabis and non-cannabis products. After a visit to Greenhead Cannabis, come next door to Greenhead General, enjoy a coffee on us, and explore an array of wonderful items. Just like our Cannabis shop, everything in Greenhead General is produced by brands we believe in, designed by designers we love, and most importantly, boasts unmatched quality.